If you're passionate about something, then it's easier to write exciting, relatable blog posts related to it.
The thing with blogging, at least in 2020, is that being passionate no longer cuts it.
You can write the best content in the world and if it's not well optimized enough from an SEO perspective, it's not going to rank well. Search engines will probably ignore it because there's so much competition out there.
This is why it's so important to search for keywords that have reasonably low competition but high search volume – the sweet spot for the new marketer.
If done right, you're well on your way to niche marketing done right.
Our observations from a completely neutral perspective are that you need approximately 100,000 words to accumulate a respectable number of low-volume keywords before Google escalates your Domain Authority. If you don't have time to write 100,000 words, you can hire blog writing services to help you write more.
Note: Higher word count doesn't always translate into higher backlinks: you'll need a separate content strategy for that. But for the most part, if you're doing niche blogging right, you'll automatically attract high-quality backlinks.
Steer Clear of the Bigger Blogs, Compete with the Smaller Blogs
Step 1 of course is to have a suitable topic in mind. Is there something that you really like in particular?
Suppose you're big on real estate marketing.
Now it doesn't take a genius to figure out that the real estate market on all fronts is full of rich content from authoritative figures. Search engines have already decided who the big leagues are. Typing "real estate agent" on Google will look something like this (if you ignore the ads at the top):
A cursory glance reveals that top bloggers in this niche are the usual suspects:
Wikipedia (don't even try to compete)
Investopedia (massive reservoir of high authority blogs)
Thebalance.com
These are big blogs that newer websites should never compete with. Because when you're just starting, you're not going to get noticed.
What you should do instead, is target long-tail keywords that fewer websites are trying to acquire. This is the fastest, most economical, and result-oriented approach that is proven to work.
Before we conduct some actual keyword, let's get two things out of the way:
You will not rank overnight (or in a few weeks) for a keyword if you're brand new (that's just not how it works)
You will have to dedicate at least 50,000 words across your content marketing campaign if you want to get noticed
Deep Diving into Keyword Research
With the two disclaimers out of the way, let's take a look at some keywords we can easily acquire.
For this exercise we will use SEMrush. If you don't have a paid plan on SEMrush, you can use LSIgraph.com, it's not exactly free but gives you three searches.
Let's see how SEMrush works.
Step 1: Visit https://www.semrush.com/analytics/keywordoverview/
Step 2: Plug in your keyword
Step 3: Review the results page

As you can see, the keyword 'real estate marketing' has a very high keyword difficulty associated with it. In fact, it also has a very high cost per click value at $6.26. This makes it's a no-go area for smaller blogs.
However, if you scroll down, you'll notice a treasure trove of data that will help you overcome this problem.
Keyword Variations
Questions
Related Keywords
Notice that most of these keywords resemble phrase than singular words. And that's a good thing. These keywords will help you rank faster and are easy to rank for.
Once again, not all of these keywords will be super easy to acquire. You'll have to find something that is low-competition and reasonably high search volume.
We clicked on "best advertising methods for real estate" and found that it only has 50 search volume. At only 50 search volume it doesn't sound very promising for marketers but it is.
Once you acquire a certain number of keywords, no matter how low-search volume they may be, you'll earn domain authority with Google. The higher your domain authority, the better your chances of taking over bigger websites.
Here's a general rule of thumb: if your website has a domain authority of 30, you should compete with websites that lie in a similar range. Going for DA=50 is not a good idea.
To find out your website's domain authority, simply plug in your URL into SEMrush and hit enter.
Using LSIgraph for Keyword Analysis (Free Option)
SEMrush isn't free and asks you for your credit card info before giving you a 7-day free trial.
Ahrefs will give you a week's trial for $7. These tools will cost you.
But there's a workaround.
LSIgraph.com.
Every day gives you access to three searches.
To start using it, simply visit LSIgraph.com, and plug in your favorite keyword.
Here's what we see for 'real estate'.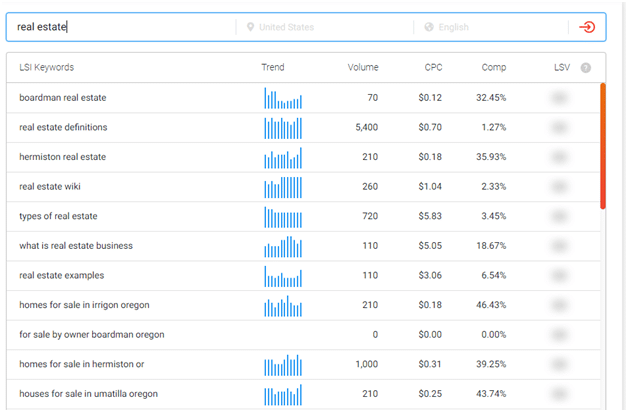 Form our experience, you should go with results like, "house for sale in Umatilla Oregon", "homes for sale in irrigon Oregon", and "homes for sale in Hermiston". Make sure to use the grammatically correct variant of the keyword even if LSIgraph shows otherwise.
These keywords aren't aggressively hunted by other blogs and are low hanging fruit, for the most part. You'll have to put up a fight but it's easier on your content budget.
Author: Dave Brown has worked alongside thousands of websites and has helped them reach the front page of Google. He has trained hundreds of blog writers who have written for SMEs and Fortune 500 companies alike. When he's not working content, he can be found at the gym or binging on Netflix.